Style and personality go hand to hand. Although they might be two very different things, they are connected in more ways than you could think. And after all, a person's personality is based on what kind of fashion statements they make. The more stylish the appearance is, the better the personality is. To make every fashion statement a strong one, you will need good-looking outwear that can leave an everlasting impression.
There are not many types of jackets in the world that can live up to the style and elegance of the Quilted Bomber Jacket. The Bomber Jacket, as you may know, is one of the most stylish and trendiest pieces of clothing that everyone seems to wear these days. And the Quilted Bomber Jacket is no different as it takes that concept to a whole new level. It does that by adding looks and comfort like no other jacket.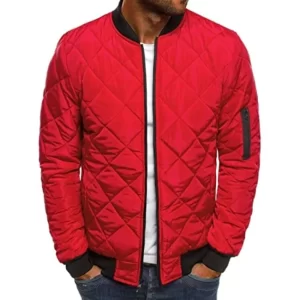 The Quilted Bomber Jacket has become a great addition to the fashion world in the past few years. It is the go-to jacket for stars and celebrities, who often wear the Quilted Jacket for their day-to-day activities. But that is not the only pop culture influence that the Quilted Bomber Jacket has made. It has even made its way to our TV screens by appearing in mainstream movies and TV shows.
The Quilted Bomber Jacket distinguishes itself from the bomber jacket by featuring designs and patterns that the standard bomber jacket does not have. These patterns and designs can range in different styles. For instance, the pattern of cross-line in a Quilted Bomber jacket is one of the most famous designs of this jacket. This design is called the Diamond Quilted Bomber Jacket. Then there's the quilted padded bomber jacket, which looks cool and smart in its own right.
Our Collection of Quilted Bomber Jacket
The appealing looks of the quilted bomber jacket have created a bit of demand, with everyone wanting to get their hands on it. But despite the rising demand, our team at Jackets Design have managed to come through and make some of the best Quilted Bomber Jacket. We intend to fulfill every fashion enthusiast's wish by offering quilted bomber jackets made from the best fabrics and materials.
We have some classy options for men with the Mens Quilted Bomber Jacket. We have not forgotten about ladies as we are offering a collection of Womens Quilted Bomber Jacket as well. The two favorite colors among people are the white quilted bomber jacket, the black quilted bomber jacket, and the green quilted bomber jacket. We also use the best leather material to make the quilted leather bomber jacket. We are also offering the classical ma-1 quilted bomber jacket to all fashion lovers.
Explore and Pick The Best Quality Quilted Bomber Jacket from many great designs we have for both mens and womens in many colors and styles. Including The Diamond Quilted One which is the most popular style. Get the benefits of affordable prices and free shipping worldwide!
Frequently Asked Questions
Q: Where to buy a quilted bomber jacket?
A: You can easily buy the quilted bomber jacket from the online store of Jackets Design. The online store of Jackets Design offers a vast range of variety in quilter bomber jackets. So you can take advantage of the ongoing sale and get a perfect Quilted bomber Jacket according to your liking.
Q: How to wear a quilted bomber jacket?
A: You can wear the quilted bomber jacket just like you would wear any other jacket. In fact, the quilted bomber jacket is much easier and more comfortable to wear than most jackets these days. And you can wear it with a tee shirt or a buttoned-up shirt underneath it and pair it with denim jeans and white sneakers for a nice casual look.